Fleet Services at Keller Bros.

Fleet Vehicle Maintenance, Service, and Repair
Keeping you productive and safe!
Whether your fleet is in use for seasonal work for landscaping or snow removal, you put your vehicles to work every day delivering groceries, caring for your customers plumbing, HVAC, or grocery deliver, or you are part of building our community in construction and maintenance, we realize how frustrating it can be to find a facility you can trust to repair your vehicle. We understand how difficult the decision to authorize a repair can be, especially without understanding why it needs to be done.
Let us take the hassle out of your fleet vehicle maintenance
As our neighbor, we want to make it easy for you to care for your fleet vehicles. So we take extra steps to make it convenient for you:
– Free rides to work or home (up to 10 miles).
– Free pick-up of your vehicle and return when work is complete.
– Priority service to get in quickly and back to important work.
– We guarantee our work: 3 years/36,000 miles warranty on both parts and labor on light and medium duty vehicles. Some exceptions are made to include this 3/36 warranty on heavy duty vehicles, depending upon the repair. See our Manager for specific warranty details for heavy duty vehicles.
– Voted #1 Auto Repair Shop in Littleton, Highlands Ranch, and the United States.
– ASE Certified service advisors can answer your questions with straightforward, easy-to-understand advisement so you can make the bast decision for your vehicle.
Every time our technicians service your vehicle, we'll include a free Digital Vehicle Inspection report! Before we begin any repair, we commit to a complete to performing quality, thorough Digital Vehicle Inspection to give YOU the information to decide what to repair based on a full inspection rather than just repair what the vehicle came in for… only to return it with lurking critical issues. And every service we provide is backed by our 3 year/36,000 mile warranty on both parts and labor on light and medium duty vehicles.
Advanced Tools. Enhanced Experience.
We offer contactless services thanks to our advanced digital tools for YOUR convenience, safety, and efficiency!
– We LOVE to have our clients come to our shop, but if you are unable to stay to view the work, and to save you TIME and the HASSLE, we are able to send your photos and videos with audio of any concerns we find, as well!
– Keller Bros offers quality, thorough Digital Vehicle Inspections to help you retain comprehensive maintenance records, AND we have the ability to text or email these to you with the estimate.
– These comprehensive digital records are kept by our cutting edge repair management software. You do not have to wait or dig through boxes of receipts… All of your repairs, photos, videos, maintenance records, and AR history are available within seconds!
– We sanitize door handles, steering wheel, shifter, and keys on all vehicles every time we exit your vehicle to protect you and your employees.
– Keller Bros offers the latest in technology with a full-vehicle Ozone Shock to TRULY and COMPLETELY sanitize your vehicle, including filters, crevices, and upholstery. This newly available service removes odors and kills germs, mold, viruses, and bacteria and is all done WITHOUT CHEMICALS. Ozone Shock is used in hospitals and higher end hotels. This can be used for a one-time treatment of a vehicle, or ask us about discounts and regularly schedule Ozone Shock treatments to keep you, your employees, and your families safe.
– We offer the ability to pay with credit card from your office or home without ever giving us your credit card number!
– Keller Bros is open early at 7 am and here until 6 pm every Monday through Friday. If your busy day keeps you from coming in during these times, we offer a secure key drop, after hours pick up, and by appointment, we will work on weekends to help prevent your emergency situation from stopping your productivity during the week.
Keller Bros. is located one block East of Broadway and Dry Creek – drop by anytime! Or give us a call at 303-347-1010 and we'll arrange for a pick-up, drop-off, or schedule an appointment to take the hassle out of caring for your vehicles.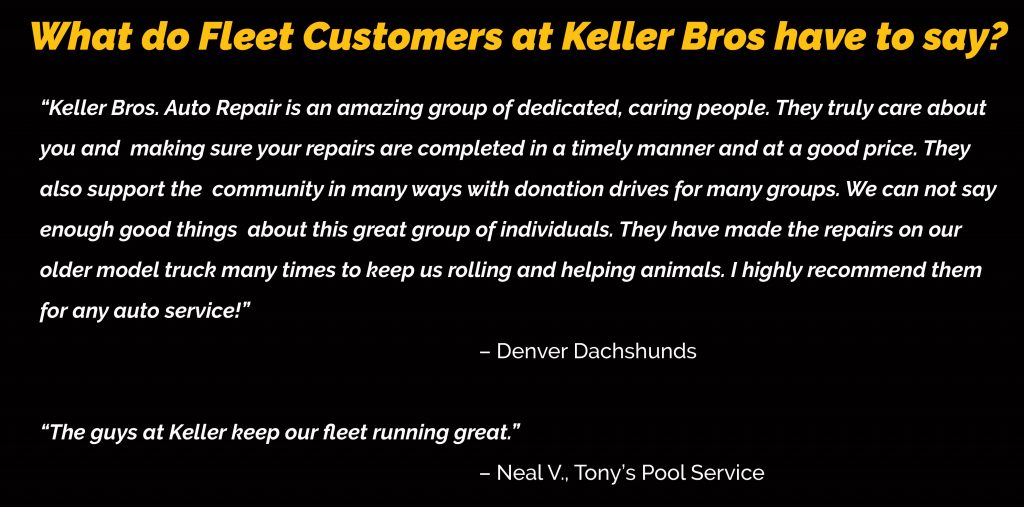 At Keller Bros., our mission is to EDUCATE our customers.
That's why Keller Bros. spends time with you to fully explain each repair and why it should be done. We categorize repairs in order of necessity so you can understand their importance. And we invite you into the shop where our ASE Certified repair technicians show you the problem with your vehicle and explain what is needed to fix it. Then YOU can make an informed decision about the repairs you want done!
At Keller Bros, we treat each of our customers as family.
Why Fleets Trust Keller Bros Auto Repair:
Our Thirteen Reasons
The following are our Thirteen Reasons — reasons why companies like Lincare Oxygen, Heritage Cleaners, and many other well-run businesses in Littleton, CO, and Denver, CO, choose our team to take care of their fleet maintenance.
97% of fleet technicians in Colorado are not qualified to work for us. They don't have the training, experience, or ethics to work for us. This begs the question, of course: who's working on your fleet at our competitor's shops?
We've been satisfying our clients for over 40 years.
We service all light & medium duty vehicles and perform fabrications and we are authorized to complete your required DOT inspections!
We can schedule your fleet repair service in the early evenings, shuttle your drivers to the job site, and can even PICK UP and DELIVER your vehicles!
We have several technicians rated at or above the ASE Master Technician level.
Keller Bros. has been both locally and nationally recognized for excellent service.
We guarantee all of our work!
We make it easy for you by customizing your fleet repair service program to your standards and priorities.
We take a proactive approach when reminding you of your scheduled maintenance and inspections. Our specialized fleet software never misses.
We thoroughly inspect and advise you every time the vehicle is in. Computerized tracking keeps you on top of needs and history — and cuts your cost.
We know how to communicate more effectively than any technicians you'll ever find.
We clean fleet vehicles (inside and out) at no extra charge! *Ask us about our Ozone Shock treatment for odor removal and sanitization.
Terry Keller and David Rogers are active in the fight for ethical repair and consumer awareness and education. They have also served as the go-to guys for Fox 31 News, 9 News, and CW2 TV stations as well as KOA and KLTT Radio stations!
Don't rob yourself of the opportunity to investigate a potential relationship with the best fleet maintenance service available. Ask our clients about us! Stop by and see us, or give us a call anytime. Your place or ours, we'll be there for you!