KELLER BROS IN THE NEWS

The Denver Post Features Keller Bros. Auto Repair!

The Denver Post recently featured a Business Q & A with Terry Keller on their website. Read the article.
Littleton Family Business is Rated One of the 'Best Shops in the Nation'
In late October, the CarQuest National Excellence Award finalists for 1999 met in Montreal, Canada. The ten Excellence Award finalists are considered to be among the best shops in America today. Keller Bros. Professional Auto Repair of Littleton, Colorado, a top ten finalist for the past three years, was selected the 1999 Top Automotive Repair Shop in the Nation from over 40,000 shops across the country.
Keller Bros. is an auto repair business that services over 700 cars per month in their 11 bay shop located at 250 E. Dry Creek Rd. They work on all makes and models and do every kind of repair and maintenance.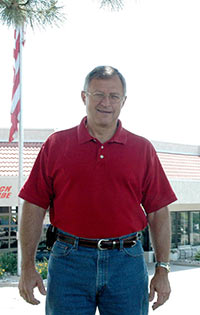 "Satisfying our neighbors' auto repair needs has been our focus for over 32 years," explained Terry Keller. "We know how to fix cars better and faster than our competition, but understanding our customers' other concerns such as budget, transportation to work, priority of repairs, and why the repair is needed is just as important."
"Our staff, led by Director of Operations, David Rogers, is fully trained and committed to anticipating the needs of our customers and exceeding their expectations. We have complete confidence that each member of our organization will treat our customers with the same care we have as we built the business," Keller said.
"It was a real honor for us to be recognized by CarQuest for our customer service, technical, and workmanship skills," said Terry Keller. CarQuest, with more than 4,000 stores, is the second largest suppler of auto parts to more than 40,000 independent repair shops in the USA. The National Excellence Award selection criteria included customer service and satisfaction, number of ASE certifications held by the staff, professional image, clean appearance, technical training, industry and civic involvement, and quality of work. The editors of the top industry trade publications selected the finalists and the top shop.
Keller Bros. Auto Repair is recognized by its top credentials from the auto repair industry. They include:
ASA Gold Medallion Certified
ASE Blue Seal Certified
ASE Master Technicians
AMI Accredited Automotive Managers
STS Certified Professional Technicians
BBB CARE member
iATN sponsoring member
TECHNET Professional Auto Service
Keller Bros. has also been recognized locally as the #1 rated auto repair facility in quality and value in the Littleton and Highlands Ranch area in an independent consumer survey conducted by Consumer Research Corporation.


The Keller family has been a long-time member of the Littleton community. In 1970, Margret and Terry Keller left their roots in the little farming town of Manti, Utah, where Terry had learned to work on his father's farm. They moved to Littleton and began their family while developing a career at Southglenn Texaco. Terry served his customers as an apprentice mechanic at night and studied at the automotive school in Denver during the day.
Upon graduation from school, he served in the United States Marine Corps. After active duty he returned to Southglenn Texaco where he served as head mechanic and manager. In 1974, at the age of 23, he and his family purchased the business. That same year he became one of the first and one of the youngest mechanics in the country to receive the Master Technician Certification.
Since then, Margret and Terry have been involved in every aspect of business operations. Terry recently earned the AMI Accredited Automotive Manager certification. Margret has worked for the business in financial management and bookkeeping for over 20 years and is currently serving as an officer of Keller Bros. Inc. Margret and Terry Keller have four children, two grandchildren, and live in Littleton.
In July of 1995, after 25 years, the old Southglenn Texaco located on Arapahoe Road was closed and torn down. It was the end of an era for the Keller family. In anticipation of the loss of the old business, they purchased Caliber Car Center in January of 1995. The business is now known as Keller Bros. Professional Auto Repair.
Today, the Keller family is actively involved in serving their community and church, and in taking care of their customers. After "32 Years of Satisfying Their Neighbors" the Keller Bros. and staff of over 22 people have built a team which is dedicated to understanding and meeting their customers' needs.

Ready to come in? Schedule an appointment online