CREDENTIALS AND AWARDS

Keller Bros. is committed to maintaining the highest standards in auto repair, and we feel the following credentials reflect our ongoing goal to do just that every day in our shop.
2021 Best of Colorado Best Car Service: Repair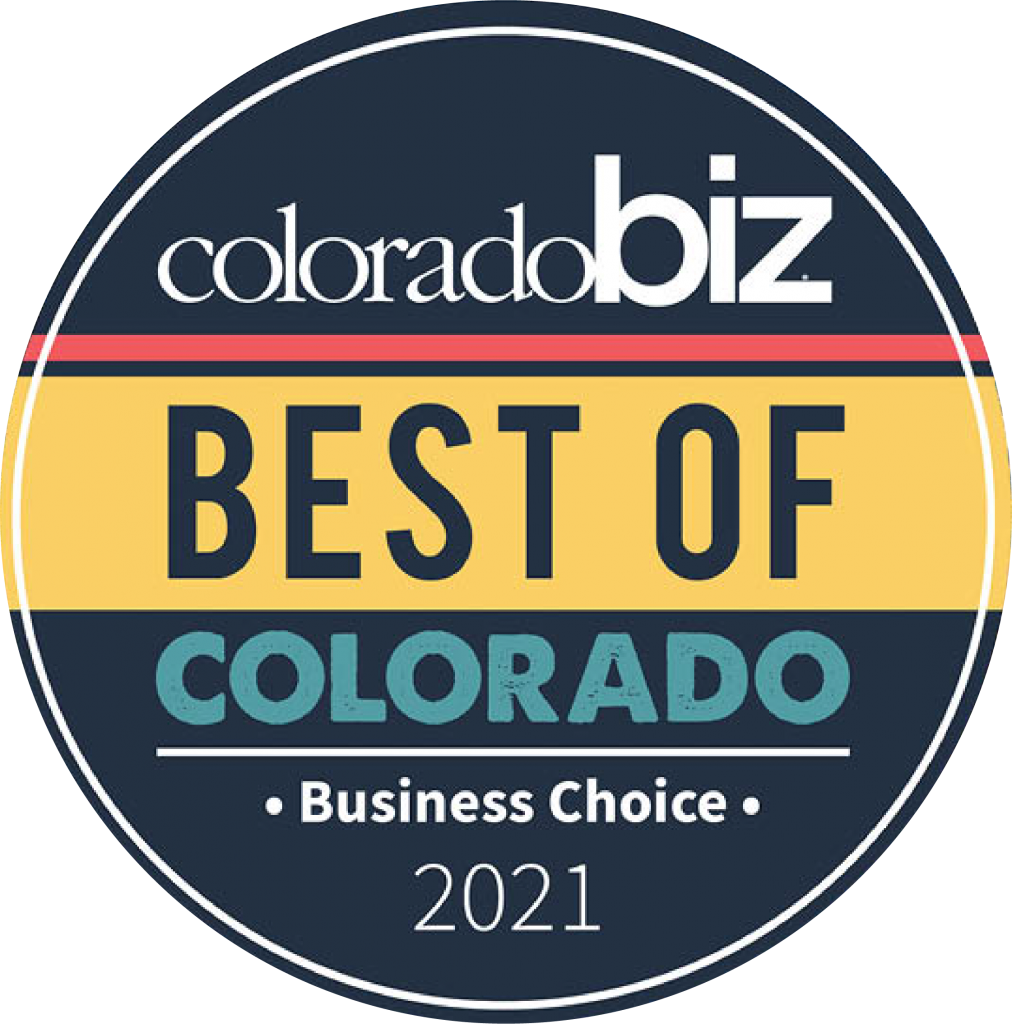 Keller Bros. Auto Repair was recognized by voters, including readers of Colorado Biz magazine and business owners across Colorado SIX YEARS IN A ROW! 2016, 2017, 2018, 2019, 2020, and 2021! Best of Colorado Business Choice Awards as Best Car Service: Repair.
2017 Denver A-List: Best Auto Repair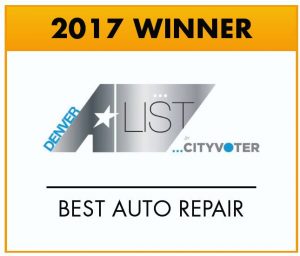 Keller Bros. is proud to have been voted Best Auto Repair on the 2017 Denver A-List. Every year, the Denver A-List asks participants in and around Denver to vote for their favorite businesses. Visit Denver A-List to see our profile!
Ethics in Business Award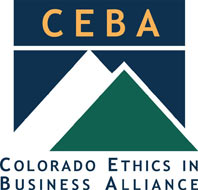 Keller Bros. was honored with the Ethics in Business Award from the Colorado Ethics in Business Alliance. Find Out More >>
BBB Gold Star Member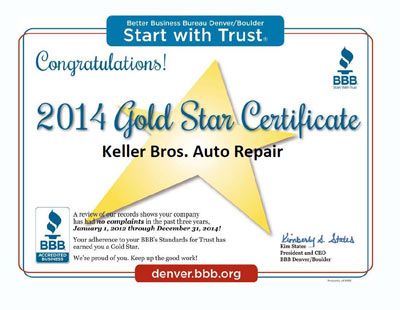 Keller Bros. has earned a Gold Star Certificate from the Better Business Bureau in 2014. Keller Bros. has been a member of the BBB since 1996 and a member of the BBB OnLine Reliability Program since 2000. As a result, Keller Bros. has been in compliance with the the highest standards and requirements for operating a business. (The BBB's Reliability Report for Keller Bros. is available on their website for anyone to see.)
Top Shop in the Nation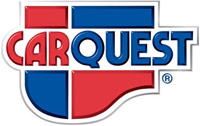 The CARQUEST National Excellence Award finalists are nominated and selected by an independent board of industry trade publication editors from among the more than 40,000 shops which are serviced by CARQUEST Auto Parts stores. The top ten finalists are selected each year and given awards at a national event banquet. Keller Bros. has been a top ten finalist three years in a row.
Best of the Best – Auto Repair and Tire Shop
In 2007, Keller Bros. was honored to have been named Best of the Best Auto Repair & Tire Store by readers of Colorado Community Newspapers in Centennial. In previous years, Keller Bros. has also been named "Best of the Best" by readers in both Littleton and Highlands Ranch.
ASE Certified

National Institute for Automotive Service Excellence is an independent testing and certification organization for technicians and shops. The Master Certified Technician designation is given only to those technicians who qualify in all 8 categories of repair. About 2% of technicians in the nation have this level of certification. The ASE Blue Seal Certified Shop designation is given to select shops that meet the high qualifications. There are only 68 shops in Colorado and about 1,500 in the nation that have qualified for this designation.
AMi Accredited

Automotive Management Institute is a national management training and certification organization for automotive service advisors and managers that was started by ASA. There are only about 1,100 Accredited Automotive Managers in the nation and 77 in Colorado.
ASA Gold Medallion Shop

Automotive Service Association is the most prominent auto repair association in the country with over 13,000 business owner members. The ASA Gold Medallion shop designation is granted to shops that pass a rigorous test and inspection by local ASA Board members for ethics, good business practices, annual training and certification, proper environmental and regulatory licenses and procedures, insurance compliance, tools and equipment, and many other high level requirements. There are only 18 Gold Medallion Certified shops in Colorado.
NAPA AutoCare Center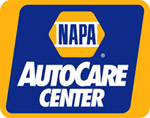 Keller Bros. is a NAPA Auto Care Center, meaning it meets the rigorous standards of the NAPA AutoCare Program. An approved shop must meet standards for "community reputation, integrity, qualifications, and expertise." Being a NAPA AutoCare Center also means offering the NAPA AutoCare Peace of Mind Warranty which covers qualifying repairs for 24-months/24,000 miles.