Posted June 7, 2023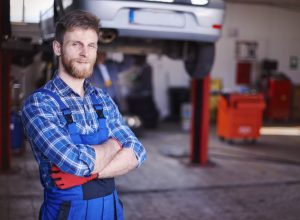 Whether your car needs maintenance or an auto repair, you need to take it to a skilled mechanic. However, with so many mechanics available to select from, it can be challenging to determine where to bring your vehicle. Knowing what questions to ask can help you find a great auto repair shop for your needs. Here are three important questions to ask.
1. Do You Specialize in Certain Vehicles or Types of Repairs?
One of the first questions that you should ask an auto repair shop is whether they specialize in certain types of vehicles or repairs. For example, some repair shops specialize in Japanese-made or European-made vehicles, and some specialize in a certain type of repair, such as brakes or transmission repair and replacement. Additionally, always ask about any certifications a mechanic has. Ideally, you want to find one that has an ASE certification.
2. What Type of Maintenance Does My Vehicle Need?
Another important question to ask a mechanic has to do with what type of maintenance a car needs and how frequently it needs that type of maintenance. You want to find a mechanic who is familiar with your vehicle and knows what its maintenance needs are. For example, according to Consumer Reports, most auto manufacturers recommend that oil changes be completed between 7,500 and 10,000 miles or every six to 12 months.
3. Do You Offer Labor and Parts Warranties?
Lastly, you always need to find out if an auto repair shop offers warranties on the labor they complete and the parts that they install in your vehicle. A great repair shop will stand by their work and offer labor warranties of anywhere from 30 days to one year, depending on the work completed. Parts warranties are usually longer, with most warranties lasting 90 to 24 months, depending on whether it is a used, refurbished, or new part.
If you're in need of an auto mechanic to help with your car, it's important to thoroughly vet any repair shop you intend on visiting. Reading online reviews and asking the right questions can help you to find the right mechanic for your needs. If you're looking for an auto repair shop you can depend on, Keller Bros can help you. Contact us today to schedule an appointment.
Categories: Car Care Tips
Tags:
---