Posted July 1, 2023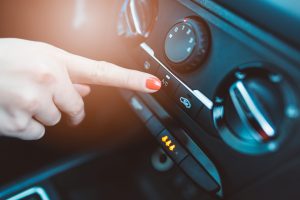 As temperatures continue to rise this month and we head towards the peak of summer, you'll most likely be using your air conditioning system more and more in order to stay comfortable while you're driving.
The one thing you DON'T want to experience this summer is discomfort at the hands of a faulty a/c system! With that in mind, here are a few symptoms to look out for regarding your vehicle's air conditioning – you may want to have your a/c checked by an ASE-certified technician if…
-The air being emitted isn't as cold as it used to be…
-A funny smell is coming from the vents…
-The air conditioner's drive belts, compressor, or blower are nosier than usual…
-A rhythmic clicking noise is coming from under the hood when you turn on the a/c or defroster…
-The defroster no longer clears up the windshield effectively…
-Water is resting on the floor of the passenger compartment or…
-The cooling fan keeps cycling on and off.
If you are noticing any of these symptoms, it's time for air conditioning service. If you want to avoid paying big bucks to fix your whole system, you should service it regularly, just as you would any other part of your vehicle.
In terms of refrigerant, certain formulas are currently being phased out of the industry in favor of new-and-improved brands so be sure to be mindful of this when consulting your mechanic about your vehicle's cooling and a/c systems.
If you have any questions or concerns about your vehicle's a/c system, or if you'd like to schedule a service appointment, be sure to give our ASE-certified technicians a call at 303-347-1010 or get in touch with us online. We're dedicated to keeping you safely on the road year-round!
Categories: Car Care Tips
Tags:
---