Posted January 3, 2018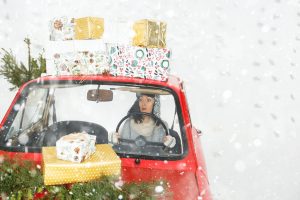 With the Holidays now officially in High Gear, people in Metro Denver and throughout the country are in full-on SHOP MODE, buying gifts for friends, family, coworkers and so on.
During the Season of Giving, don't forget to pick something up for your family vehicle!
Here are eight gift ideas for your truck or car that will make it (and you!) a happy camper this winter:
1 – USB Charger
These handy devices have a wide range of uses (and only cost a few dollars!). Plug in your phone, camera, tablet, mp3 player, or any USB connected device for an on-the-go charge.
2 – Emergency Kit
If your vehicle isn't already equipped with one, now is the perfect time to purchase or build an auto emergency kit. Put one together for your own vehicle or for a loved one to keep them safe this winter and year-round.
3 – GPS/Cell Phone Mount
For the directionally-challenged and map lovers on your list, consider a cell phone or GPS mount. With one of these, keep your GPS or smartphone maps in view to minimize unnecessary distractions.
4 – Hitch Bumper & Step
This accessory attaches to your vehicles hitch mount for a variety of uses. Like a small step, you can stand on this attachment to more easily access roof storage. Certain types, like the Weather Tech Bump Step, even act as bumper protection to avoid minor accidents or parallel parking mishaps.
5 – Car Seat Gap Stopper
This nifty gadget helps you avoid losing spare change, chapstick, keys, and french fries down the space between the car seat and the center console.
6 – Vinyl Floor Liners
Vinyl car mats are easier to clean and last longer than their cloth counterparts. They also help protect your vehicle's interior from damage from shoes, dirt and mud.
7 – Blind Spot Mirror
These devices are designed to increase the range of your view from your rearview mirrors to more easily spot vehicles in your blind spot. Add these mirrors to your vehicle for an extra safety boost.
8 – Sun Shade
Protect your investment from harmful UV rays with a sun shade! It will also help keep your vehicle cool on hot days while keeping your dashboard and interior safe from premature wear. Find one with personality to match the recipient, and it makes a great gift.
Want an even more meaningful gift for your vehicle? Give it Bonus Maintenance – If you've been putting off that fluid flush or new tires, this season is the perfect time to catch up on your vehicle's maintenance. Or give a loved one the gift of peace of mind knowing their vehicle can handle anything on the road! Stop in for an inspection or call us at 303-347-1010.
Best of luck with all your holiday shopping – we hope you find the perfect gift for all the car lovers on your list. From all of us at Keller Bros. Auto Repair, Happy Holidays!
Categories: Car Care Tips
Tags:
---