Posted October 27, 2017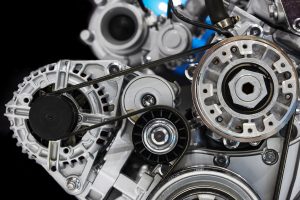 The job of a mechanical belt is to act as a source of motion, transmitting power to various engine components to ensure proper timing of moving parts and connect key systems. Here are a few different types of belts your vehicle depends on to function properly:
Timing Belt – also known as synchronous belts, these are responsible for timing the moving parts within your engine. If any parts are out of sync, the entire production can fail so it's important for timing belts to be operating at a high level at all times.
Serpentine Belt – this belt connects the alternator, power steering and A/C, thereby ensuring proper power reaches these key accessories.
Alternator Belt – this powers your vehicle's electrical components and recharges your battery. It makes sure that proper power levels and an adequate charge is maintained.
All of these belts are typically made from firm rubber. Because car engines create a high level of heat while running, belts will eventually wear out and need to be replaced. When this happens you should get it taken care of quickly to keep your car operating properly.
Warning signs for aging belts aren't always obvious, so it's recommended that you consult your auto repair technicians if you suspect one of your belts might not be working properly. Be sure to call us at (303) 347-1010 if you have any questions or concerns regarding your mechanical belts!
Categories: Car Care Tips
Tags:
---