Posted July 1, 2015
For the July "Hump Day is Help Day" initiative in our shop, we're continuing our support of the Denver Rescue Mission. This group provides food, shelter, and services to those in our community who need it the most.
As part of our "Hump Day is Help Day" program, we'll be donating $5 from every full-price oil change we service on Wednesdays and Thursdays in July — all of this money will go straight to the Denver Rescue Mission.
A $100 donation provides 52 meals for people in need. Thanks to your help, Keller Bros. customers who have supported Denver Rescue Mission with an oil change on Hump Days, we've been able to provide 234 meals to date, not including the food or in-kind donations we've collected in our shop.
Denver Rescue Mission provided 640,565 meals in 2014 – we are honored to have played a small part in that mission and continue to support their efforts in the years to come.
That is what we are called to do – serve those who simply have nowhere else to turn. Each year at the mission we change more lives. – Brad Meuli (2014 Annual Report)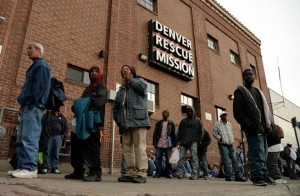 This month, we're eager to continue our support of the Denver Rescue Mission, through oil changes on Wednesday and Thursday's Help Days, through raffle ticket purchases, and through food donations collected in the Denver Rescue Mission bin in our waiting area.
All of us at Keller Bros. are committed to fueling our community – through car care, collecting food, providing meals, and supporting those who do so much for our community.
To learn more about how you can help the Denver Rescue Mission, stop by Keller Bros. Auto Repair in Littleton or call our team at 303-347-1010. We hope to see you on a Hump Day this month to support the Denver Rescue Mission!
Categories: Hump Day is Help Day
Tags:
---