Posted August 22, 2016
Whether you are planning one last summer road trip or you're sending a child off to college across the country, road trips can be stressful. While they are a great way to see the country and explore, road trips can also mean unexpected surprises, varying road conditions, and lots of miles on your car in a short amount of time.
Stay safe on the journey — BEFORE you hit the road, make sure your car is up to the task!
Most common Road-Trip Breakdowns
According to one road side maintenance company, the top causes of breakdowns on the road include: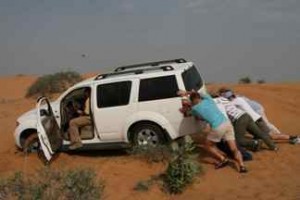 Dead or faulty battery
Flat tire
Faulty Alternator
Starter
Fuel problems
Clutch cables
Spark plugs
Ready for the good news? ALL of these factors can be avoided with proper preventative maintenance!
A trained technician can spot the warning signs of an aging battery or failing clutch, run tests or diagnostics if needed, and recommend the car repair services needed to keep your vehicle running. Each of the seven causes above can be avoided with proper attention and regular maintenance.
Stop by our auto repair shop in Littleton for a Pre-Trip Inspection before your next road trip. The ASE-Certified technicians at Keller Bros. will thoroughly inspect your vehicle to make sure it will keep your family safely on the road for your trip!
Our experienced technicians will even teach you about the key warning signs to watch for on the road. At the first sign, bring your vehicle to a reliable auto repair shop or call our team at 303-347-1010 to avoid breakdowns on your road trip.
If you Breakdown
If you have an emergency on the road, use caution and follow these steps for What to Do if your car breaks down on the road. Have your vehicle serviced by a reputable auto repair shop, like Keller Bros. Auto Repair, with certified technicians and reliable parts covered by a good warranty. Don't get stuck taking your car to a shady garage or a price-gouging dealership – you'll end up spending more money on rip-off priced repairs to fix problems that could have been prevented before you left.
Keller Bros. Auto Repair is committed to keeping you safely on the road – we'll help you arrange a tow, diagnose and repair any problems that occur with your vehicle, and help you avoid emergencies with proper preventative maintenance!
Road trips are an exciting part of summer and heading back-to-school, but make sure your car is equipped to handle all the conditions the road may throw at it. Stop by our shop or call 303-347-1010 to schedule your pre-trip inspection!
Categories: Car Care Tips
Tags:
---