Posted July 1, 2015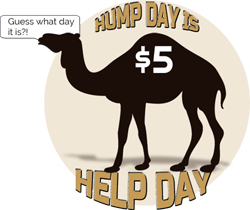 We're excited to announce a new way to support your favorite "Hump Day is Help Day" charities!
When you bring your vehicle into Keller Bros. any day of the week, you'll have the opportunity to purchase a raffle ticket. All of the money raised through the raffle go directly to the charity – we keep none of it for ourselves.
Purchase one raffle ticket for $2, or donate $5 and receive three tickets.
At the end of the month, we'll randomly select one winner from all of the raffle tickets purchased. The winner will receive:
$100 gift certificate for services at Keller Bros. Auto Repair
View the full raffle details including how to enter here: July 2015 Raffle Disclosure
June Winner: Sheena Kerstiens
June 2015 Raffle Disclosure
Stop by Keller Bros. for an oil change on a Wednesday or Thursday and see even more impact – we'll donate $5 from your full price oil change in addition to your raffle ticket purchase.
With so many opportunities to help our community, we are committed to doing our part. Keller Bros. Auto Repair is dedicated to fueling our community.
We live here, we love it here, and we hope it shows.

Categories: Hump Day is Help Day
Tags:
---