Posted May 1, 2014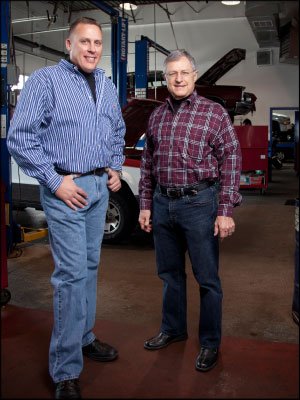 Keller Bros. was featured as the cover story of a magazine called Ratchet+Wrench this month. In these sorts of situations, it's normal to just link to the article. But the reason we were featured isn't because of an award or an accomplishment or a specific achievement — we are featured because of our culture.
And since you're a part of our culture, we think you deserve more than just a link and a "click here to read more."
One of the things we teach employees is that we don't just fix cars in a shop on Dry Creek Road. We're not just an auto repair shop that operates from 7am to 6pm in Littleton.
We work in a community. When we close the doors at night, we don't also turn off a switch that makes us care for people. We say, "we live here, we love it here and we hope it shows" not because it's catchy, but because it's the truth.
Education is a part of that, which is why we focus so much on teaching instead of selling at the front counter. Whether it's the radio show we've done on 850 KOA, the Monday Morning Mechanic segment we've done on the Channel 2 Morning News, or even just explaining at the front counter how a MotorVac can save you money and give your engine more power, our goal is to give you the tools to make the right choice for your vehicle and your family.
But it's actually bigger than that, because for the last 15 years, the goal has been much more than educating in our community. Since 1999, we've had the same mission for the entire automotive industry. Using the culture and systems we've built here at Keller Bros., we've been helping independent auto repair shops across the US.
The goal? Help shops focus on education. Give owners the tools to hire great employees who fix the car right the first time and who provide superior customer service. Work to earn back drivers' trust after it was destroyed by dealerships and chain stores.
All of which is to say thank you for your support and trust and loyalty. Our mission may have grown in scope, but it hasn't changed one bit in aim: to protect you, your family, and the investment you've made in your vehicle. We appreciate the chance to serve you, our neighbors, and we're so very grateful for your support of our culture and our mission.
Read the full story at https://www.ratchetandwrench.com/shop-life/shop-profiles/article/11485800/creating-a-successful-shop-culture
Categories: Car Care Tips, News
Tags:
---