Posted March 1, 2022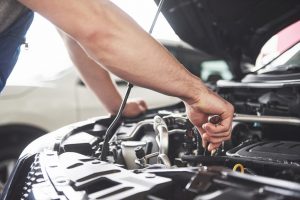 Spring is on its way to Littleton! As we look forward to sunny days and road trips, it's important to remember that changing seasons mean changing conditions for your vehicle. As we head into a new season, take time to make sure your vehicle is up-to-date on its maintenance needs:
1. Antifreeze
Antifreeze isn't only important during freezing winter nights. This fluid, also known as coolant, prevents the engine from overheating all year! As temperatures rise during the spring, make sure the coolant and cooling system are working properly.
2. A/C temperature and check
As the days get warmer in Colorado, you're more likely to turn on the air conditioning in the spring and summer. Problems may have appeared during the winter while you weren't using the a/c. Make sure the system is tested and ready to keep you cool and comfortable on the roads in Littleton… otherwise, you may suffer from sticky seats and uncomfortable heat as temperatures rise.
3. Tire pressure
A 10 degree increase in temperature can affect tire pressure by 1-2 psi. During the spring, temperatures in Colorado can swing rapidly from hot to cold. Check your tire pressure regularly to make sure it is still in the optimal range. Properly inflated tires can help you improve fuel efficiency (more miles to each gallon) and maximize the life of your tires.
4. Potholes
Temperature swings also leave behind road damage, including unsightly and dangerous potholes, cracks, and bumps. Even a small pothole can damage your alignment and suspension. If you hit a pothole on the road, bring your vehicle in for an inspection and alignment right away to prevent further damage.
5. Fluids
Spring is the perfect time to take care of routine maintenance that you may have been putting off during the winter. Fluid flushes can help ensure the coolant, transmission fluid, brake fluid, and motor oil are all in good condition and ready for the demands of warmer weather. When you visit Keller Bros. Auto Repair for an inspection, our certified technicians will check each of these fluids – we'll even top off your windshield washer fluid to keep you safe through spring showers!
The best thing you can do for your vehicle this spring is stop by Keller Bros for a full inspection. Our certified auto technicians can check the above items and more to make sure your vehicle is ready for spring driving conditions. If maintenance is needed, take care of issues right away.
If you have any questions about the care of your vehicle, preparing for spring in Littleton, or scheduling an appointment, call our advisors at 303-347-1010.
Categories: Car Care Tips
Tags:
---