Posted June 3, 2022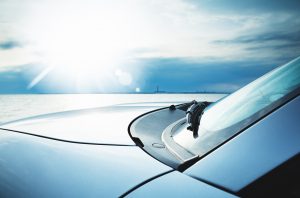 There aren't many things worse than a hot, stuffy car in the summertime. While most people enjoy being outdoors at this time of year, the heat and sun can make summer driving feel like traveling in an oven.
Thankfully, there are things you can do to keep your car cool during the summertime. The following are simple tips that can help your vehicle stay cool on hot, humid days.
Windows
According to the National Highway Traffic Safety Administration (NHTSA), car windows hold in heat and sunlight, essentially turning your car into a small greenhouse. Reducing the heat that comes through the windows is the easiest way to keep your car cool. Using sunshades or having tinted windows in your car will cut down on the direct rays from the sun. You should also use covered parking when you can, and leave your windows slightly cracked when parked to create airflow.
Seats
Scorching seats can cause discomfort or even moderate burns when you sit on them. If possible, avoid leather seats or put seat covers in your car during the warmer months. If your budget permits, you could also look at investing in air-conditioned seats for your car. Furthermore, cooling gel covers or pads for car seats can be purchased online.
Air Conditioning
Keeping your vehicle's a/c system functioning correctly and efficiently is imperative to staying cool in the summer. To ensure your car cools as quickly as possible, turn your air on full blast as soon as you start your car and open all your windows just a little. This will help push the hot air up and out the windows. Once at your desired temperature, use your car's recirculating feature together with the air conditioning to maintain the coldest possible air. If your a/c system is pumping out anything less than cold air, bring it into Keller Bros. Auto Repair for an inspection.
While you can't change the weather (nor do you probably want to right now!), you can take measures to ensure that your summer driving is more comfortable and pleasant for everyone in your car by following these simple steps!
Categories: Car Care Tips
Tags:
---