Posted May 7, 2020
We love our community, and we know you do too. That's why we're going the extra mile to give back!
Now at Keller Bros. Hump Day is Help Day! Every Wednesday, we will donate $5 for EVERY full-priced oil change we perform to Denver Dachshunds Rescue and Transport. DDRT helps many dogs who have been abandoned, abused, and neglected by breeders, hoarders, and just regular people who no longer wanted that beautiful little puppy they got on impulse. DDRT takes the dogs to the vet and pays for whatever they need, gets them healthy, finds them a foster home and begins training and socializing these babies so they can become a good part of a loving forever family.
Now your preventative maintenance goes even further — not only will you be able to keep your vehicle safely on the road, you'll get more miles out of every dollar AND support our community!
If you'd like to help further, we will also be collecting additional donations from our anyone and everyone who would like to help this amazing charity organization! (So even if you don't need or can't get an oil change on a "Help Day," you'll still be able to support a worthy cause!)
Spread the word!
To make an even bigger impact in our community, we're turning to you! Help us share the news about Help Day at Keller Bros. with your social networks! Follow Keller Bros. on Facebook or Twitter, to connect. Be sure to share your support by using the hashtag #HumpDayisHelpDay.
Thank you for helping Keller Bros. support our community. We couldn't do it without you.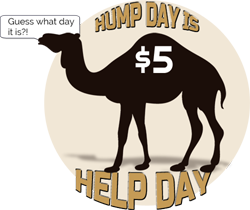 We live here. We love it here. And we hope it shows.
Categories: Car Care Tips
Tags:
---