Posted February 9, 2015
Chris, the Service Manager here at Keller Bros. Auto Repair, explains how to check your tires and when to know you need new ones in this video:

Need new tires? Find out with this trick that only costs a penny! 
Did you know that you officially need to replace your tires when the tread is below 2/32" thick? And did you know that the distance between the edge of a penny and the top of Lincoln's head is exactly 2/32"?
Convenient, right?
Whether you've put extra miles on your tires with summer road trips or they are simply nearing the end of their life, this quick test will let you know if it is time to consider new tires.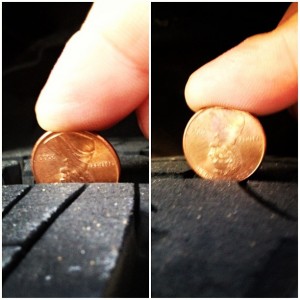 Most tires have "wear bars" that run across the tread pattern. When these become visible, connecting patterns across your tire's tread, they serve as a warning that your tread is getting bare. But not all tires are designed the same, and sometimes you just need an extra test to know with confidence that it is time to replace your tires.
So for a quick tread check, grab a penny! Place the penny, with Lincoln's head down and facing you, into the tread of the tire.
If all or part of Lincoln's head is obscured by the tread, you're tires still have some life left – but if you can see all of Lincoln's head, it's time to replace your tire.
Note: Measure each tire in multiple places – both the inside and outside edge across the tire, and on multiple points around the tire. If your alignment is off, or if you have neglected tire rotation, they may have uneven wear. This also can cause bald spots that mean you need to replace your tires prematurely.
For safe driving on Colorado roads, a quarter can also do the trick! The distance between Washington's head and the edge of a quarter is exactly 4/32" (which also happens to be the recommended thickness for tire tread if you are driving in rain, snow, or icy conditions).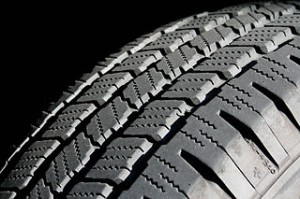 Use the same method, placing the quarter with Washington's head upside down and facing you in the tread across multiple places on your tire. When you can see all of Washington's head, you know you will need to replace your tires soon.
You may consider replacing your tires before they reach the 2/32" point. As your tread thins between 4/32" and 2/32" you may start to experience performance issues, especially in wet and slick conditions.
The good news? There are easy steps you can take to extend the life of your tires! Keep your tires properly inflated to reduce extra friction and wear. Rotate your tires regularly to ensure they wear uniformly without creating bald spots.  Have an alignment performed periodically. Treat your tires with care – following these recommended maintenance can help them wear evenly so you get more miles out of every dollar! Stop by or schedule an appointment for a tire rotation, alignment, or inspection.
Categories: Car Care Tips, Car Care Videos
Tags: , check tire tread, penny tire tread, tire tread, worn tire
---